FAVORITE EASTER RECIPES 2021 - GECKOMAN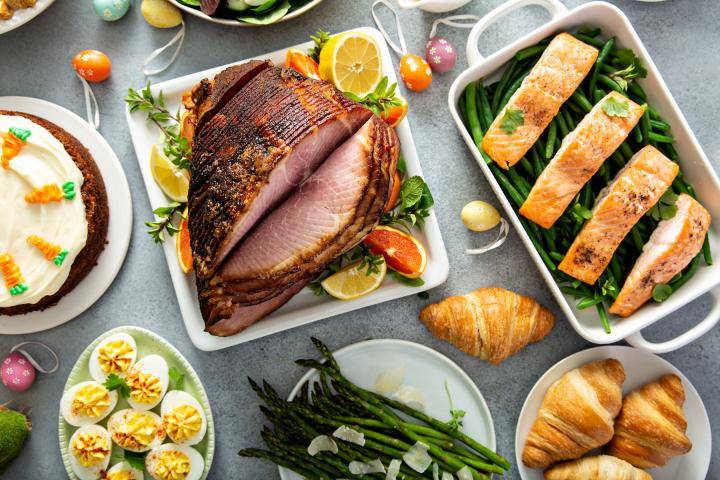 From festive Easter breads to pretty Easter pies, browse our favorite recipes for this all-important Christian feast day. Not only do we have Easter dinner covered, but we also have some egg-cellent Easter brunch ideas if that's more your speed. Think spring—starting with yellow eggs, orange carrots, light green peas and asparagus, and pretty pink rhubarb.
Start the meal off right! Here are two delicious appetizer options.

Deviled eggs are a quick and easy appetizer that anyone can make—it's as simple as boiling water! Plus, these savory treats are packed with protein and flavor.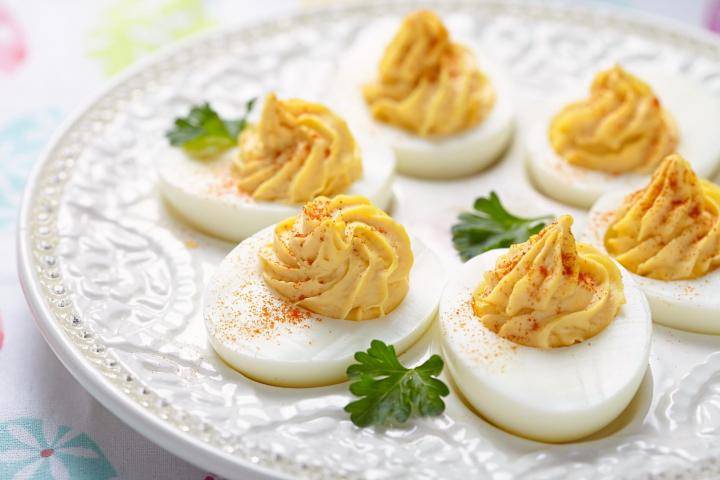 INGREDIENTS
8 hard-boiled eggs
3-4 tablespoons mayonnaise
2 teaspoons Dijon mustard
1/4 teaspoon cayenne pepper
2 tablespoons finely diced celery (optional)
2 tablespoons finely diced red onion (optional)
Kosher or sea salt and freshly ground black pepper, to taste
Garnish: paprika (optional)
INSTRUCTIONS
Remove shells from hard-boiled eggs and slice in half lengthwise. Carefully remove the yolks, and transfer to a bowl.
Using a fork or pastry blender, mash the yolks. Add mayonnaise, mustard, cayenne pepper, celery, onion, salt, and black pepper to taste.
Spoon filling into a zip-top bag, cut off a corner tip, then pipe into the egg white halves. Garnish with paprika if you like.
Chill and serve.
YIELD:
16 eggs
PREPARATION TIME
25 Minutes
TOTAL TIME
55 Minutes
PREPARATION METHOD
Cook
CATEGORY
Eggs
COURSE
Appetizers
SOURCE
Yankee Magazine's Lost and Vintage Recipes
【ROASTED PROSCIUTTO-WRAPPED ASPARAGUS】
This prosciutto-asparagus recipe is always a hit. If you do have any left over, serve it chilled.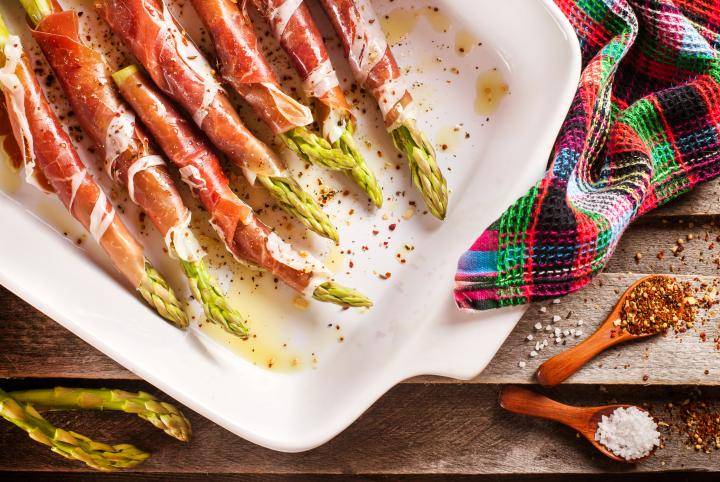 INGREDIENTS
2 pounds asparagus (about 40 spears)
1 pound thinly sliced prosciutto, cut in half lengthwise
Olive oil
Kosher or sea salt
Freshly ground black pepper
Garnish: lemon wedges or zest
INSTRUCTIONS
Preheat oven to 400°. Blanch asparagus by plunging into a large pot of boiling water, about 4 minutes, until crisp-tender. (If you like, add a pinch of salt and baking soda to the water to help the asparagus keep its bright-green color.)
Transfer asparagus to a bowl of ice water to stop cooking. Drain and let dry.
Wrap each asparagus spear diagonally with a strip of prosciutto. Use the odd pieces and fat to wrap and secure (they'll crisp and melt in the oven).
Place on a baking sheet drizzled with olive oil. Season with salt and pepper to taste and bake until golden and sizzling, about 15 minutes.
Garnish with lemon wedges or lemon zest and serve immediately.
YIELD:
about 40 pieces
PREPARATION TIME
20 Minutes
TOTAL TIME
45 Minutes
PREPARATION METHOD
Roast
OCCASIONS
Christmas
CATEGORY
Vegetables
COURSE
Appetizers
SOURCE
Yankee Magazine
If you'd like to serve soup, choose a recipe which highlights the flavor of early spring vegetables—in this case, green pea and pink radish.
【CREAM OF GREEN PEA SOUP】
Even when made with frozen peas, this soup has fresh-from-the-garden flavor. Of course, fresh peas will also work nicely, if you're lucky enough to have some.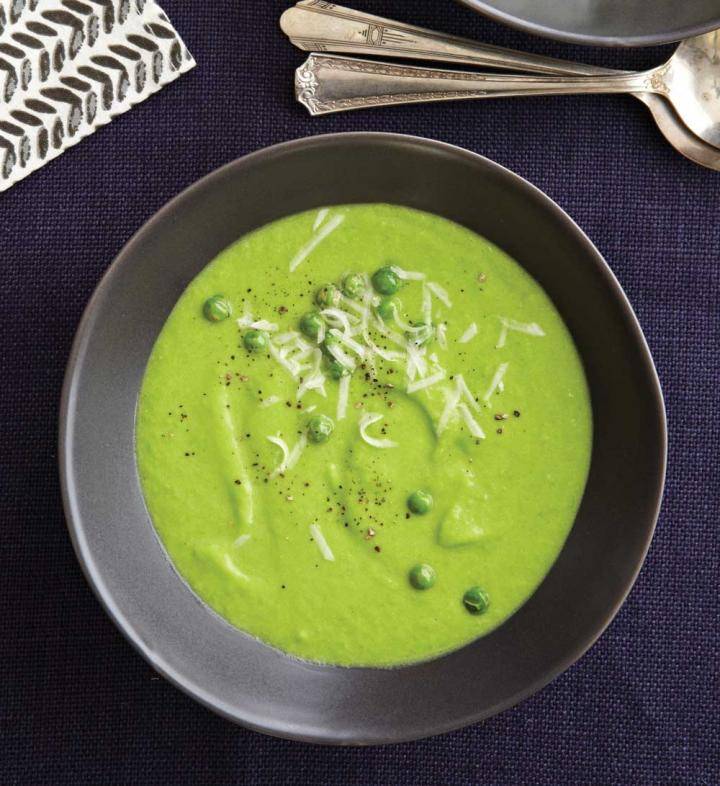 INGREDIENTS
3 tablespoons unsalted butter
1 medium sweet onion, finely chopped
5 cups chicken stock
4 cups frozen green peas
1 medium baking potato, peeled and diced
1⁄2 teaspoon salt, plus more to taste
1⁄4 cup heavy or whipping cream
Optional: Freshly ground black pepper, to taste
Optional: Finely grated Parmesan cheese, for garnish
INSTRUCTIONS
In a large pot over medium heat, melt the butter. Add the onion and cook, partially covered, for 10 minutes, or until the onion is soft. Add the chicken stock, peas, potato, and salt. Bring to a boil.
Reduce the heat, cover, and simmer for 7 to 8 minutes, or until the peas are soft. Remove from the heat.
Process the mixture in batches: Using a slotted spoon, transfer some of the peas to a blender. (The blender should be no more than one-third full.) Add enough of the liquid to cover. Process until smooth, then transfer to a large bowl. Repeat for the remaining mixture. Save a few peas for garnish. (You'll have more broth than you need, which is fine: Just leave it in the pot.)
Return the pea mixture to the pot, add the heavy cream, and stir. Gently reheat the soup. Taste and add pepper and more salt, if desired. Serve hot, passing the cheese and peas at the table.
YIELD:
Makes 4 to 5 servings.
CATEGORY
Soups, Stews, Chowders
COURSE
Appetizers
Lunch
Main Dish
CREDIT:
The Old Farmer's Almanac EATS
SOURCE
The Old Farmer's Almanac EATS
Unpeeled red radishes are cooked and then puréed to create a creamy soup with a delicate pink blush.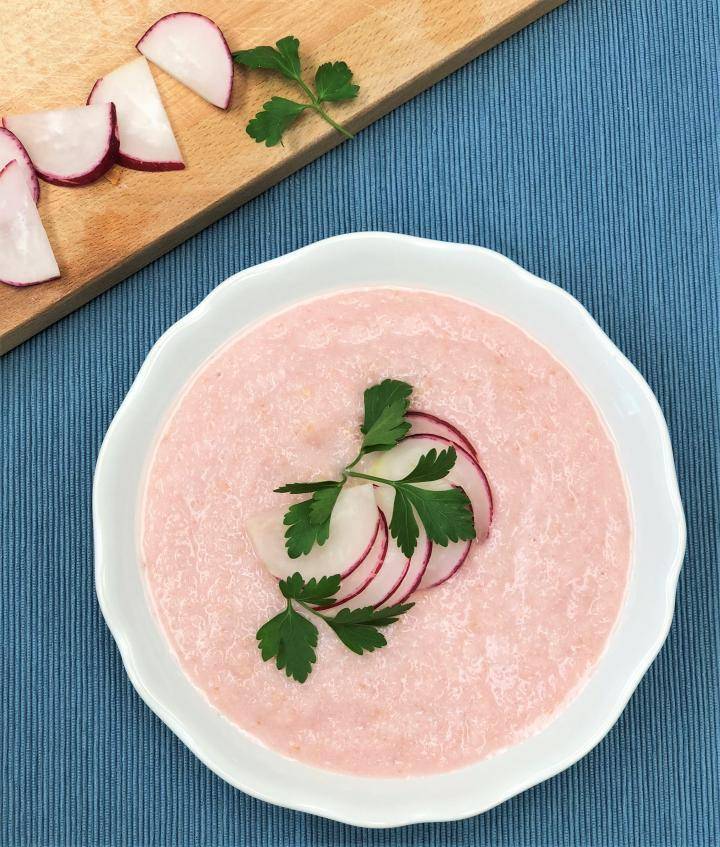 INGREDIENTS
3 tablespoons butter
3 scallions, white part only, sliced
6 cups chicken broth
2 bunches red radishes (about 2 poounds), rinsed, trimmed, and quartered
1/4 cup long-grain rice
1 teaspoon finely chopped fresh ginger
1 tablespoon lemon juice
1/2 cup plain yogurt
freshly chopped parsley, for garnish
INSTRUCTIONS
1. Melt the butter in a large saucepan. Add the onions and toss to coat evenly. Stir over medium heat until the onions are tender. Pour in the chicken broth. Add the radishes and rice. Cover the pan and cook at a gentle bubble for 20 minutes or until the radishes and rice are tender.
2. Pour into a blender or food processor and process until smooth. Return to saucepan. Stir in ginger and lemon juice and blend in yogurt. Place over low heat and warm gently, but do not allow the soup to boil.
3. Serve garnished with chopped parsley.
YIELD:
Serves 6
PREPARATION METHOD
Cook
CATEGORY
Vegetables
COURSE
Soup
SOURCE
Vegetable Cookbook
In our opinion, a good salad has a balance of different textures and flavors. Here are two options:
【SPINACH-STRAWBERRY SALAD】
Not your usual spinach salad, but a winning combination of strawberries and spinach tossed with a crunchy sweet-sour poppy-seed dressing.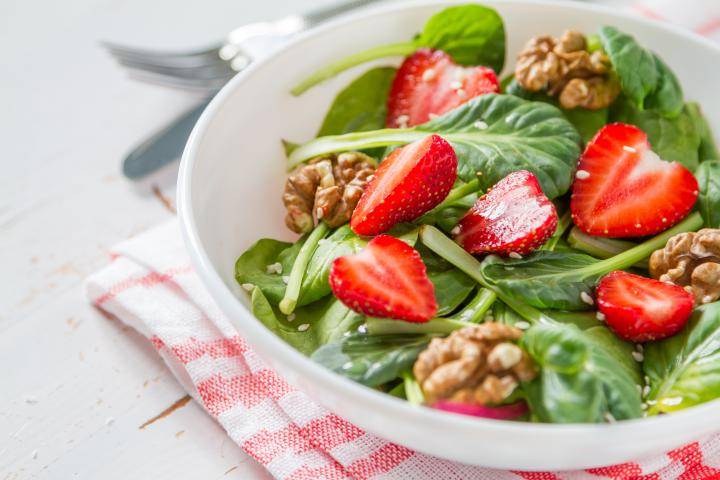 INGREDIENTS
1/2 cup white sugar
2 tablespoons sesame seeds
1 tablespoon poppy seeds
1-1/2 teaspoons minced onion
1/4 teaspoon Worcestershire sauce
1/4 teaspoon paprika
1/2 cup vegetable oil
1/4 cup cider vinegar
1 bag (10 ounces) fresh spinach
1 pint strawberries, sliced thin
walnuts or almonds, optional
INSTRUCTIONS
In a blender, combine the sugar, sesame seeds, poppy seeds, onion, Worcestershire sauce, paprika, oil, and vinegar. Blend well. If the dressing seems thick, add a few drops of water.
Remove the stems from the spinach and tear the leaves into bite-size pieces. Arrange them on individual salad plates or in a salad bowl. Arrange the strawberries and nuts (if using) on top. Drizzle the dressing over the strawberries and serve.
YIELD:
4 to 6 servings
PREPARATION METHOD
No Cook
CATEGORY
Fruit
Salads
Vegetables
COURSE
Appetizers
Main Dish
Salads
CREDIT:
Florence Griswold Museum Lyme Historical Society, Old Lyme,
SOURCE
Yankee Magazine Church Suppers and Potluck Dinners Cookbook
【PEA, LEMON, AND ASPARAGUS SALAD STARTER】
A refreshing and nutritious salad of spring vegetables that will impress your guests time and again.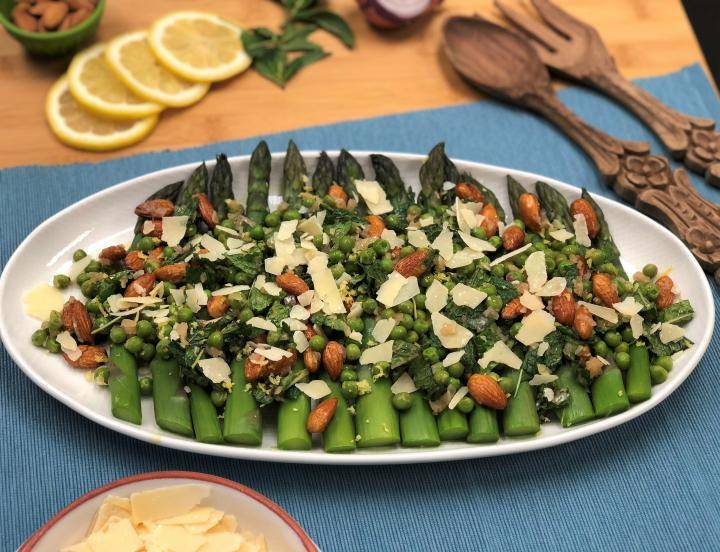 INGREDIENTS
5 tablespoons extra-virgin olive oil, divided
1/4 cup shallots, minced
1/3 cup whole almonds
2 tablespoons fresh lemon juice
1 pound asparagus, washed and tough bottom ends trimmed and discarded
3/4 cup shelled fresh peas
2 teaspoons grated lemon zest
3 sprigs fresh mint, leaves removed and saved
Kosher or sea salt and freshly ground white pepper
Garnish: 4 ounces Parmigiano-Reggiano cheese, shaved with a vegetable peeler
INSTRUCTIONS
In a medium skillet, warm 2 tablespoons of oil over medium heat. Add shallots and saute until translucent, about 5 minutes. Scrape shallots and oil from pan into a small bowl and set aside. Add remaining 3 tablespoons of oil to same pan over medium heat. Once oil is shimmering, add almonds and toast 6 to 8 minutes, stirring frequently until lightly browned. Add almonds to shallot mixture. Stir in lemon juice and set aside.
Prepare an ice-water bath and set aside. In a large saucepan, bring 4 cups salted water to a boil. Add asparagus and return water to a boil; cook 5 minutes. Remove asparagus with tongs (reserving water in pan) and place in ice-water bath. Return reserved water to a boil and blanch peas 3 minutes or until soft. Drain in a colander and refresh under cold running water. Add peas to almond mixture. Drain asparagus in colander and pat dry with a paper towel.
Arrange asparagus spears on serving platter with tips all facing the same direction. Add lemon zest and mint leaves to almond and pea mixture. Season with salt and pepper to taste. Liberally spoon over asparagus and garnish with cheese shavings.
YIELD:
6 servings
PREPARATION METHOD
Boil
Other
CATEGORY
Salads
Vegetables
COURSE
Salads
Side Dishes
SOURCE
Yankee Magazine
We enjoy the traditional Easter ham but here are two other options for a special feast. 
This is a wonderful baked ham recipe with a flavorful glossy glaze—so it's moist with a sweet and spicy taste. (Cloves are optional.)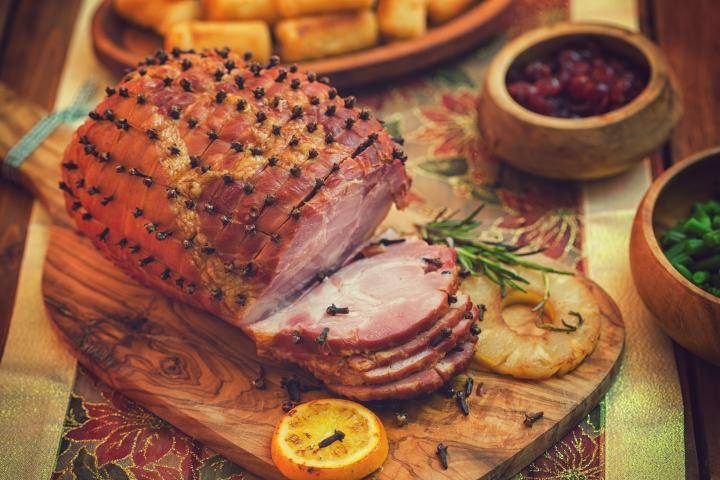 INGREDIENTS
1 very lean large ham with bone in
1/2 cup brown sugar
1/2 (1 stick) cup butter
30 whole cloves
1 can pineapple rings in juice
INSTRUCTIONS
Remove ham from packaging and reserve any juices. Preheat oven to 325 degrees. In a small saucepan, heat butter until melted and add brown sugar and reserved ham juices and pineapple juice. Bring to slow boil over medium heat and then simmer. Simmer 5 minutes, then set aside.
Place ham in roasting pan face-down. With a good sharp knife score the skin in a pattern. Push in cloves until outside rind of ham is completely dotted with cloves. With a basting brush, spread the prepared sauce all over ham. Bake for 1 hour. Remove ham from oven and baste again. Decorate with pineapple rings and place back in the oven for 30 minutes. Remove from oven, baste again and serve.
YIELD:
6 to 8 servings, with leftovers
PREPARATION METHOD
Bake
OCCASIONS
Easter Sunday
CATEGORY
Meat
COURSE
Main Dish
SOURCE
User Submitted
【GRILLED SALMON WITH MAPLE MUSTARD GLAZE】
The fragrance of sweet maple, tangy mustard, and lively ginger comes together for a flavorful dish.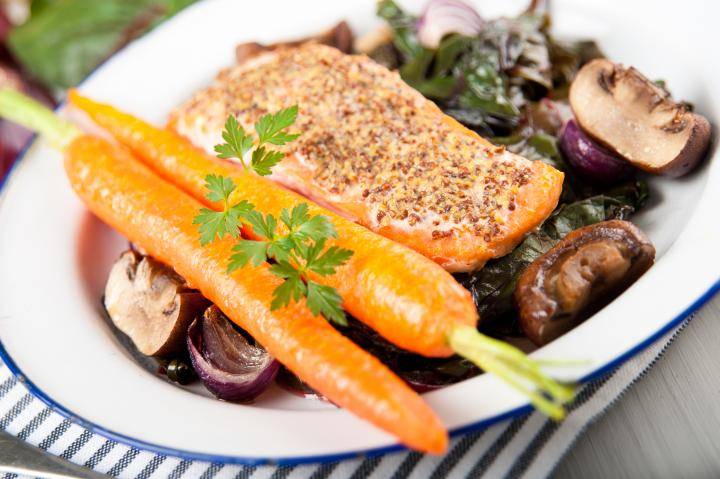 Next time you think of grilling salmon, add this maple mustard glaze in minutes! The fragrance of sweet maple, tangy mustard, and lively ginger comes together for a great meal.
I eat salmon often, and usually steam it. I don't know what got me thinking—even dreaming—about maple syrup recently. Could it be that I live in New Hampshire?
With fresh salmon and everything in my pantry needed for this Maple Mustard Glaze recipe, I decided to try it out.
The glaze took only minutes to make. I spread it on and under the salmon (a fillet, skin on, not the steak cuts suggested) in the morning before I went to work.
That night, I broiled the salmon in the oven. You could also enjoy on the grill outdoors (or, inside if the weather's not cooperative). If you're broiling, use the middle rack. If you're grilling in the oven, place the rack close enough to cook but not burn the glaze. If you're grilling over coals, cook the salmon over medium-hot coals for 5 to 6 minutes, per side, turning once.
Oh, my! The fillet was flaky, the glaze smelled and tasted sublime. All together, dinner was scrumptious, with lots left over for lunch.
Try it—and tell me what you think!
GRILLED SALMON WITH MAPLE MUSTARD GLAZE
GLAZE:
2 tablespoons olive oil
¼ cup Dijon-style mustard (smooth or grainy)
2 tablespoons maple syrup
2 teaspoons soy sauce
juice of ½ lemon
1 tablespoon peeled and chopped fresh ginger
SALMON:
4 salmon steaks, 1-inch thick
salt and pepper, to taste
For glaze:
In a small bowl, combine the oil, mustard, maple syrup, soy sauce, lemon juice, and ginger and whisk to blend. Pour half of the sauce in a small, nonreactive casserole.
For salmon:
Blot the salmon with paper towels to remove surface moisture. Lightly salt and pepper both sides, and lay the salmon on the sauce in the casserole. Spoon the remaining sauce over and spread evenly. Cover with plastic wrap and refrigerate for 1 hour.
Prepare the grill. Cook the salmon over medium-hot coals for 5 to 6 minutes, per side, turning once.
Makes 4 servings. 
【LEG OF LAMB ROASTED WITH WHITE WINE AND HERBS】
This wonderful way to prepare Easter lamb for a special occasion. Note that you'll need to marinate for a few hours or overnight.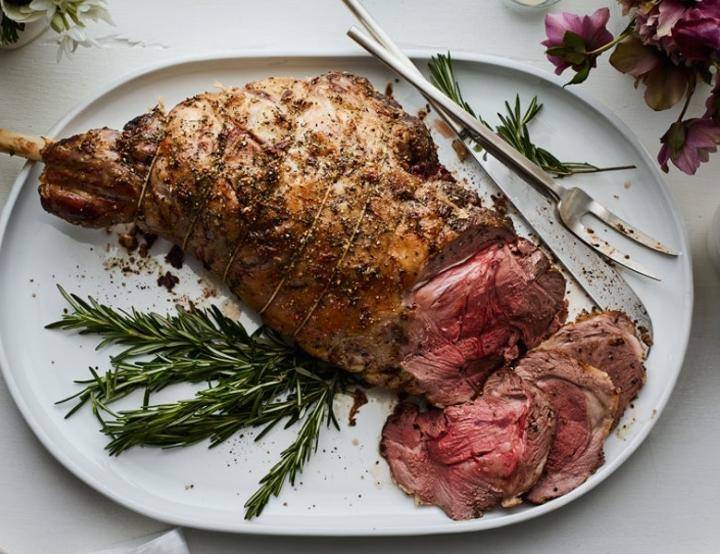 INGREDIENTS
6-pound leg of lamb
Salt and freshly ground pepper
1-1/2 cups dry white wine
1/2 cup olive oil
4 garlic cloves, minced
1 tablespoon dried oregano
1/2 teaspoon dried thyme
Juice of 1 lemon
rosemary or other fresh herbs, for garnish
INSTRUCTIONS
Sprinkle the lamb with salt and pepper. Mix 1 cup of the white wine with the olive oil, garlic, herbs, and lemon juice. Place the lamb in a dish and pour the marinade over. Rub it in well. Transfer the lamb and the marinade to a double plastic bag. Squeeze out all the air and seal with a twist tie. Marinate for several hours or overnight. Bring the lamb to room temperature. Remove from the marinade and wipe dry. Preheat the oven to 400 degrees. Insert a meat thermometer in the lamb. Place the lamb in a roasting pan and set in the oven to brown for 15 minutes. 
Reduce the oven temperature to 350 degrees. Add the remaining ½ cup wine to the marinade and baste frequently. Roast to the desired degree of doneness. Allow 16 to 18 minutes per pound to reach an internal temperature of 140 degrees (rare); 20 to 25 minutes per pound to reach 160 degrees (medium); and 30 to 35 minutes to reach 170 degrees to 180 degrees (well done). Allow the lamb to stand for 10 minutes before carving. Slice thinly. Remove the fat from the pan juices. Correct the seasonings and serve the juices on the side. Garnish with fresh herbs.

YIELD:
6 to 8 servings
PREPARATION METHOD
Bake
OCCASIONS
Easter Sunday
CATEGORY
Meat
COURSE
Main Dish
SOURCE
The Nine Seasons Cookbook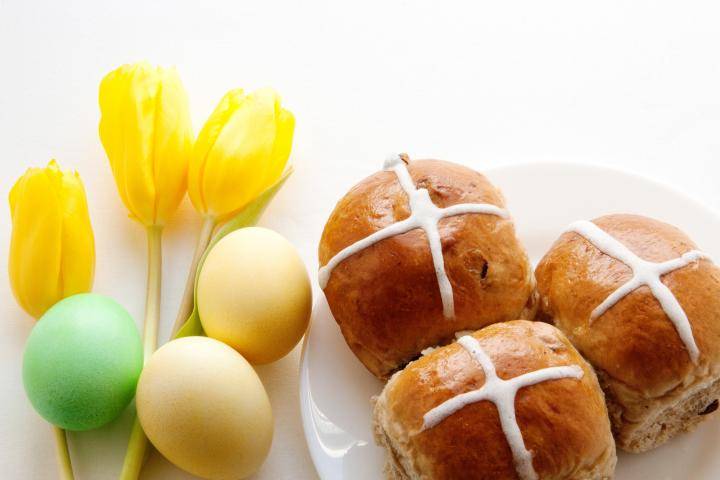 INGREDIENTS
1 cup milk, scalded
1/2 cup sugar
8 tablespoons melted butter
1/2 teaspoon salt
1 yeast cake dissolved in 1/4 cup lukewarm water
1 egg, well beaten
3 cups flour
1/2 teaspoon cinnamon
1/2 cup dried currants (or, raisins)
1/4 cup shredded citron
pinch of ground cloves
1 egg, well beaten
confectioners' sugar and milk
INSTRUCTIONS
Combine the milk, sugar, butter, and salt. When lukewarm, add the yeast cake dissolved in water. Add the egg and mix well. Sift together the flour, cinnamon, and cloves, add the currants and citron, and mix thoroughly. Add to the wet ingredients and mix well. Cover and let rise in a warm place (75-85 degrees F) until doubled in bulk. Shape into round buns and place close together in a well buttered pan. Let rise again. Brush the top of each bun with beaten egg. Make a cross on each bun with a sharp knife. Bake in a hot oven (400 degrees F) for 20 minutes.
Remove from the oven and make crosses with a mixture of the confectioners' sugar and milk.
YIELD:
10–12 buns
PREPARATION METHOD
Bake
CATEGORY
Bread
COURSE
Breakfast & Brunches
Other
Side Dishes
SOURCE
Favorite New England Recipes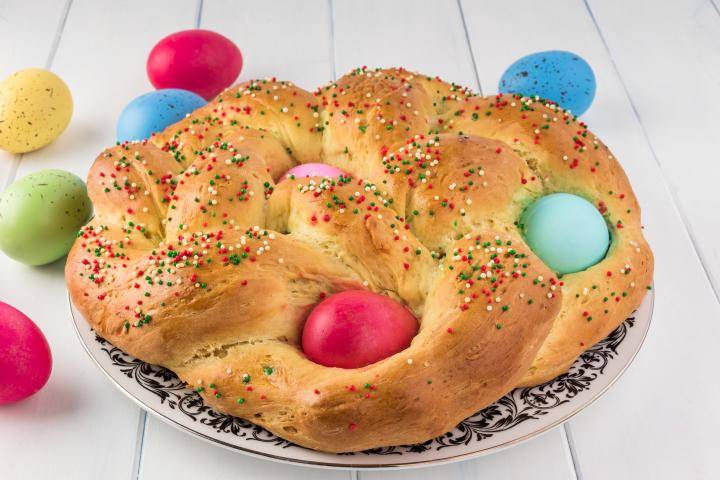 INGREDIENTS
1/4 cup sugar
1 teaspoon salt
1 package dry yeast
2-1/2 to 3-1/2 cups unbleached flour
2/3 cup milk
2 tablespoons butter
2 eggs, at room temperature
1/2 cup chopped mixed candied fruit
1/3 cup chopped blanched almonds
1/2 teaspoon aniseed
2 tablespoons melted shortening
5 uncooked eggs colored with Easter-egg dye
Icing:
1 cup confectioners' sugar
1 tablespoon milk
1/8 teaspoon vanilla extract
colored sprinkles, for decoration
INSTRUCTIONS
In a large mixing bowl, blend the sugar, salt, and yeast well with 1 cup of the flour. In a saucepan, combine milk and butter, heating slowly until liquid is warm and butter is melted. Pour the milk into the dry ingredients and beat 125 strokes with a wooden spoon. Add the two eggs and ½ cup flour or enough to make a thick batter. Beat vigorously for 2 minutes. Stir in more flour, enough to make a ball of dough that draws away from the sides of the bowl.
Turn out onto a floured board and knead for about 10 minutes, working in additional flour to overcome stickiness. Place the dough into a greased bowl, turning to grease the top. Cover tightly with plastic wrap and put into a warm, draft-free place until doubled in bulk, about 1 hour. Meanwhile, combine the fruit, nuts, and aniseed.
Punch down the dough and return it to a lightly floured board. Knead in the fruit mixture, keeping the syrupy pieces dusted with flour until they are worked into the dough. Divide the dough in half. Carefully roll each piece into a 24-inch rope–the fruit and nuts will make this slightly difficult. Loosely twist the two ropes together and form it into a ring on a greased baking sheet. Pinch the ends together well. Brush the dough with melted shortening. Open up the twist slightly to make a place for each colored egg. Carefully push the eggs down into the dough as far as possible. Cover the bread with waxed paper and let rise in a warm, draft-free place until double in bulk, about 1 hour.
Bake the bread in a preheated 350 degrees F oven for about 35 minutes, or until a toothpick inserted into a twist comes out clean. Place onto a wire rack to cool. Once the bread is cool, drizzle the icing on top between the eggs, and decorate with colored sprinkles.
YIELD:
1 loaf
OCCASIONS
Easter Sunday
CATEGORY
Bread
COURSE
Desserts
SOURCE
The OFA Recipes for Every Season
The only thing better than Easter dinner is the dessert that comes after it! Here are some of our favorite Easter dessert recipes.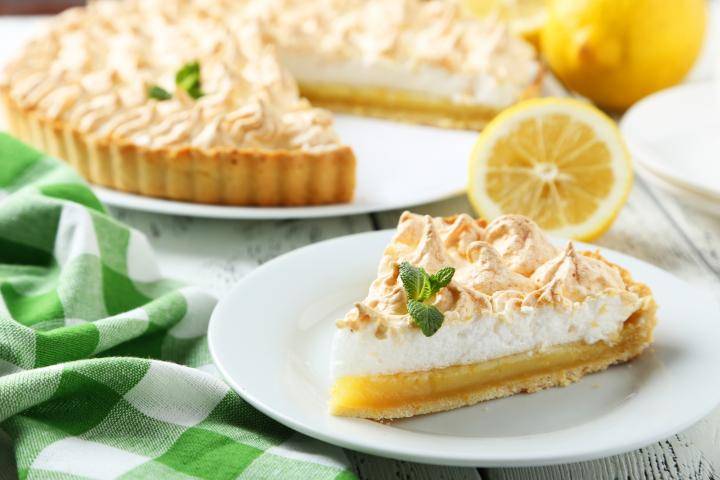 FOR THE FILLING:
INGREDIENTS
1-1/2 cups granulated sugar
1-1/2 cups plus 1/3 cup water, divided
1/2 teaspoon table salt
1/2 cup cornstarch
4 large egg yolks, slightly beaten
1/2 cup freshly squeezed lemon juice (from about 3 lemons)
3 tablespoons salted butter
1 teaspoon freshly grated lemon zest
INSTRUCTIONS
To make the filling, combine the sugar, 1-½ cups water, and salt in the top of a double boiler over high heat. Bring to a boil. Mix the cornstarch with the remaining ⅓ cup water and add to the boiling mixture slowly, stirring constantly. Cook until thickened and clear. Remove from the heat and cool five minutes. Stir in the egg yolks and lemon juice. Return the mixture to the heat and stir until it begins to bubble. Remove from the heat and stir in the butter and zest. Cover and cool until lukewarm.
FOR THE MERINGUE:
INGREDIENTS
4 egg whites (see Note)
1/2 teaspoon cream of tartar
1/4 teaspoon table salt
1/2 cup granulated sugar
1 baked 9-inch pie shell
INSTRUCTIONS
Note: If you're uncomfortable using uncooked egg whites, look for pasteurized egg whites, available in the dairy case of many supermarkets.
To make the meringue, combine the egg whites, cream of tartar, and salt in a clean mixing bowl and beat until frothy. Gradually add the sugar, beating until glossy peaks form when you lift the beater.
Preheat the oven to 325°;. Pour the filling into the pie shell. Pile on the meringue, spreading to the edge of the crust. Bake for 15 minutes, or until lightly browned. Cool on a rack for 1 hour. Chill for at least 3 hours before serving. This is best served the day it is made.
YIELD:
6 to 8 servings
PREPARATION METHOD
Bake
CATEGORY
Pies and Pastries
COURSE
Desserts
INGREDIENTS
3 eggs, beaten
2-1/2 cups red rhubarb, 1-inch slices
1-1/4 cups sugar
1-1/2 cups fresh strawberries, sliced
1/4 cup all-purpose flour
1 9-inch pastry crust with lattice top
1/4 teaspoon salt
1 tablespoon butter or margarine
1/2 teaspoon nutmeg
INSTRUCTIONS
Combine eggs, sugar, flour, salt, and nutmeg; mix well. In a separate bowl, combine rhubarb and strawberries.
Line 9-inch pie plate with pastry; fill with fruit mixture. Then pour egg mixture over the fruit. Place pads of butter across surface. Top with lattice crust, crimping edge high.
Bake at 400 degrees for about 40 minutes. Serve warm with or without a scoop of vanilla ice cream.
YIELD:
6 servings
PREPARATION METHOD
Bake
CATEGORY
Pies and Pastries
COURSE
Desserts
SOURCE
User Submitted
You deserve a comfortable pair of shoes