Why Do You Need a Pair of Slippers With Arch Support?
This keeps your feet healthier and happier for a new level of living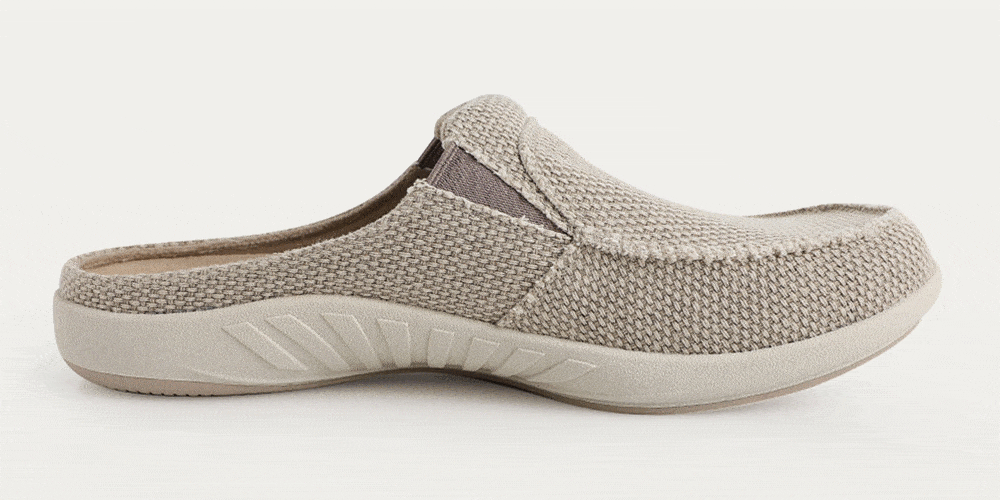 Since we usually think of slippers as warm, fluffy, and lightweight slip-on shoes are worn indoors, we don't typically think of them as shoes that should provide arch support or other therapeutic benefits to our feet. However, this would be a misnomer. Just like our athletic shoes, or work shoes, or any of the shoes that we wear all day long are supposed to provide proper arch support, so should our slippers.
Think about it, when we are at home, we are often busy preparing dinner, cleaning up, putting things away, doing laundry, etc., which means we are on our feet just like we have been all day long. Your feet still need arch support to control over-pronation even when you're wearing slippers and house shoes.
Wearing flat shoes with a lack of cushioning affects more than just the bottoms of your feet, unsupportive shoes can also strain muscles and joints in your knees and ankles. Shoes with good arch support help with balance, can reduce fatigue, and even help prevent conditions like plantar fasciitis.
WHAT ARE ARCH SUPPORT SLIPPERS?
Arch supports are arch-shaped devices placed under the arch of the foot, normally made of foam or similar material, to help support your foot. They are also sometimes known as support insoles. It helps to keep your foot and ankle positioned in the correct place. This in turn has many benefits to aid your overall health as well as your foot health.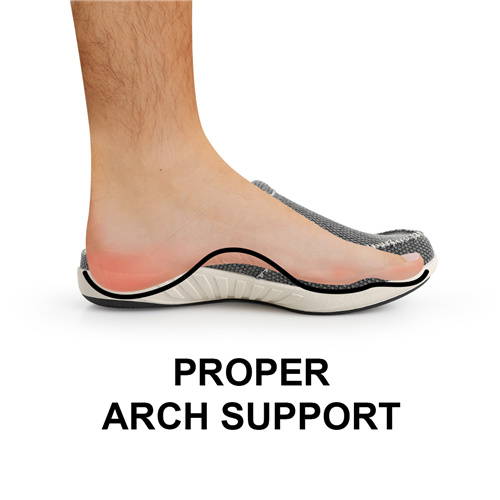 Good arch support slippers and arch support house shoes, such as Geckoman arch support slippers, should come with insoles that provide anatomical arch support that controls over-pronation and thus reduce stress on your feet and improve your body posture. You will feel immediately the improvement in foot comfort and mobility. Arch support slippers and arch support house shoes should also be made from only high-quality materials, adjustable closures to enhance fit, and include durable soles with good cushioning.
BENEFITS OF SLIPPERS WITH ARCH SUPPORT
When it comes to indoor footwear we have so many options, one of which being slippers with arch supports. We're constantly told to look after our feet properly and these supportive slippers are one way in which we can do that. But what exactly do they do and should you be wearing them?
Arch support slippers are not only just as comfortable as typical slippers, but they'll also make sure that your feet are properly supported and protected.
They can help ease many of the symptoms of foot conditions because they reduce impacts on your heels, knees, and back and control over-pronation, which is the major cause for conditions such as the ball of the foot pain, arch pain, and knee pain.
Arch support slippers effectively decrease heel pain caused by plantar fasciitis and serve as plantar fasciitis house shoes.
They can significantly reduce the amount of strain placed on the feet and legs while you continue to remain on your feet doing your household chores.
Good arch support slippers can help improve your stability and balance.
People suffering from diabetes will also benefit from wearing slippers with proper arch support because arch support slippers are also highly recommended by podiatrists for patients who are healing operations.
The soft interiors, roomy toe area, and excellent cushioning help with comfort and recovery time.
SLIPPERS THAT HELP PREVENT DISCOMFORT












Slippers with arch support can be a good way to help prevent the discomfort that stems from the posture we hold our feet in. When our feet are properly supported we hold ourselves better and this has a knock-on effect on other joints other than our arches and knees.
A lot of the time we spend at home is spent without shoes on. It's common for people to have arch supports in their outdoor shoes, but when we spend most of our time at home we should look to see what benefits we can get from slippers.
SLIPPERS THAT BOLSTER STABILITY
Many of us have flat feet, a lot of us don't even realize this about ourselves. This means that our feet lack a natural arch. The arch is one way the body helps us have stability when we stand. Supportive house shoes assist in this job, especially for those with flat feet.
So if you feel like you lack stability when walking around your home, it could be wise to invest in a pair of arch support slippers. Due to their supportive nature, these slippers also provide ultimate comfort for your feet.
OUR BEST SLIPPERS WITH ARCH SUPPORT
Geckoman has multiple pairs of supportive slippers for men and supportive slippers for women. With arch supports and rubber soles, these wool slippers are perfect to keep you comfy whatever you're doing. The sole means you can even wear these slippers outside, whether you're roaming your garden or popping next door to collect a parcel.
To summarize, and answer the original title question of this post, 'Do slippers need arch support?' the answer is a resounding "YES! Slippers do need arch support!" As you can see from our list above, there are clearly many benefits to wearing supportive slippers.
However, even people who don't have foot problems should still wear slippers with good arch support. Think of it as a preventive measure that can save you needless discomfort and pain in the future. And fortunately, there is no need to sacrifice style for comfort. Arch support slippers like Geckoman's slippers are not just comfortable and therapeutic, they're attractive and stylish too.
The primary focus of the Geckoman brand is to offer the ultimate comfortable and functional shoes, orthotic insoles, and socks. By combining athletic footwear technology and therapeutic detailing, Geckoman footwear offers the highest level of comfort and protection for sensitive feet. Finding the right pair of shoes can be a tiring process, especially when faced with a foot ailment. Geckoman employs biomedical engineers to build innovative footwear products, designed to alleviate the symptoms associated with various foot conditions, such as plantar fasciitis, arch pain, heel and foot pain, bunions, corns, calluses, and neuroma, and products for individuals with diabetes, arthritis, and Neuropathy.
When you need to use special plantar fasciitis insoles or custom-made orthotics for plantar fasciitis you should look for shoes that come with removable insoles, such as Geckoman shoes, which feature removable insoles with built-in arch support in all their footwear, including plantar fasciitis shoes, orthopedic shoes, and arch support slippers. Geckoman offers a variety of arch support shoe styles. When looking for the best walking shoes for foot pain, the best arch support casual shoes, and the best dress sandals for plantar fasciitis, try Geckoman shoe Risk-Free, we are offering a 180-day wear test.
Today's most comfortable shoes for men allow you to step out in the latest footwear trends and still enjoy a comfortable, arch-supporting shoe. Perfect for everyday wear, our comfortable men's shoes range from men's slippers with arch support and sandals to work shoes and everything in between. Too often, finding the perfect supportive shoe for women comes at the expense of style, forcing you to choose between comfort and appearance. At Geckoman, we're disrupting the footwear space by transforming how people view women's shoes - from women's office shoes to slippers and everything in between. Geckoman unites comfort and style, offering podiatrist-designed arch support shoes for women in the season's most coveted trends. Our shoes are all built with superior arch support and high-quality materials to support all-day wear and minimize arch pain.
BEST SHOES WITH ARCH SUPPORT
DISCLAIMER: The information on this site is for informational purposes and is not a substitute for advice, diagnosis, or treatment by a trained medical professional. If your plantar fasciitis symptoms persist, this could be a sign of a more serious condition. Because everyone´s feet and body are different, results are not guaranteed and may vary from the customer experiences and testimonials shared on this site. Always consult a trained medical professional prior to any treatment regimen.